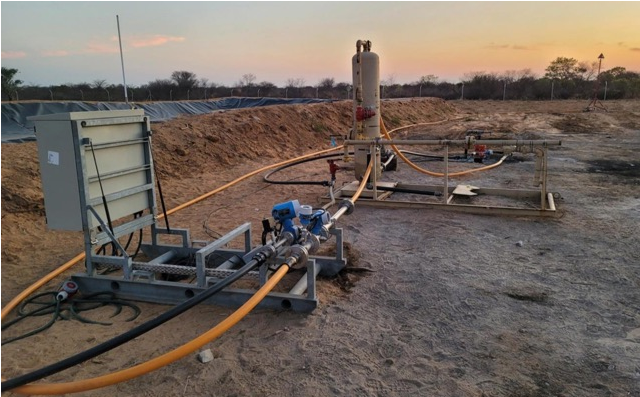 Coalbed methane (CBM) explorer Botala Energy (ASX: BTE) has announced the latest developments from is 70% owned Serowe CBM project in Botswana, including its decision to progress to flow testing after confirming gas in coalbeds.
The explorer today revealed nuclear magnetic resonance (NMR) logging from its most recently drilled Serowe-7 well suggests sufficient presence of gas in the 35 metres of coal intersected in three seams. The company has now decided to progress to flow testing and surface facilities are being planned.
Meanwhile, steady, pressure-controlled dewatering is ongoing at the Serowe-3 well with a steady increase in the bubbling of gas observed. The water flow rate is also stabilising steadily, as anticipated.
According to Botala, this demonstrates continuous improvement in the permeability of the coal seams and increases the overall drainage area of the well.
The company says it has also progressed environmental impact assessments (EIAs) for both its Serowe and Leupane sites to obtain approval to establish gas/solar hybrid power stations should gas flow at commercial rates.
The remaining 30% stake in Serowe is held by Pure Hydrogen (ASX: PH2), through its 19.9% investment in Botala.
Local asset status secured
Botala also announced its has secured Local Asset Status from Botswana's Non-Bank Financial Institutions Regulatory Authority (NBFIRA), which allows local government and pension funds to invest in the company.
Botala says this status and its accreditation from the Botswana Investment and Trade Centre (BITC) provides access to investors, market development, networking and the fast-tracking of permits.
This is expected to enhance the company's business case for a solar panel manufacturing plant in the country, as well as development of its Leupane energy hub and industrial park.
Botala has been progressing business case studies for hybrid gas/solar plants and a photovoltaic (PV, i.e., solar panel) project with Solar Finland.
A final investment decision is expected around July, Botala reported.
The companies are working towards an equal partnership and confirmed they have received expressions of interest for equity participation and debt funding. The pair said they aim to complete stringent due diligence requirements shortly to finalise a partnership structure by July.
Source: Small Caps