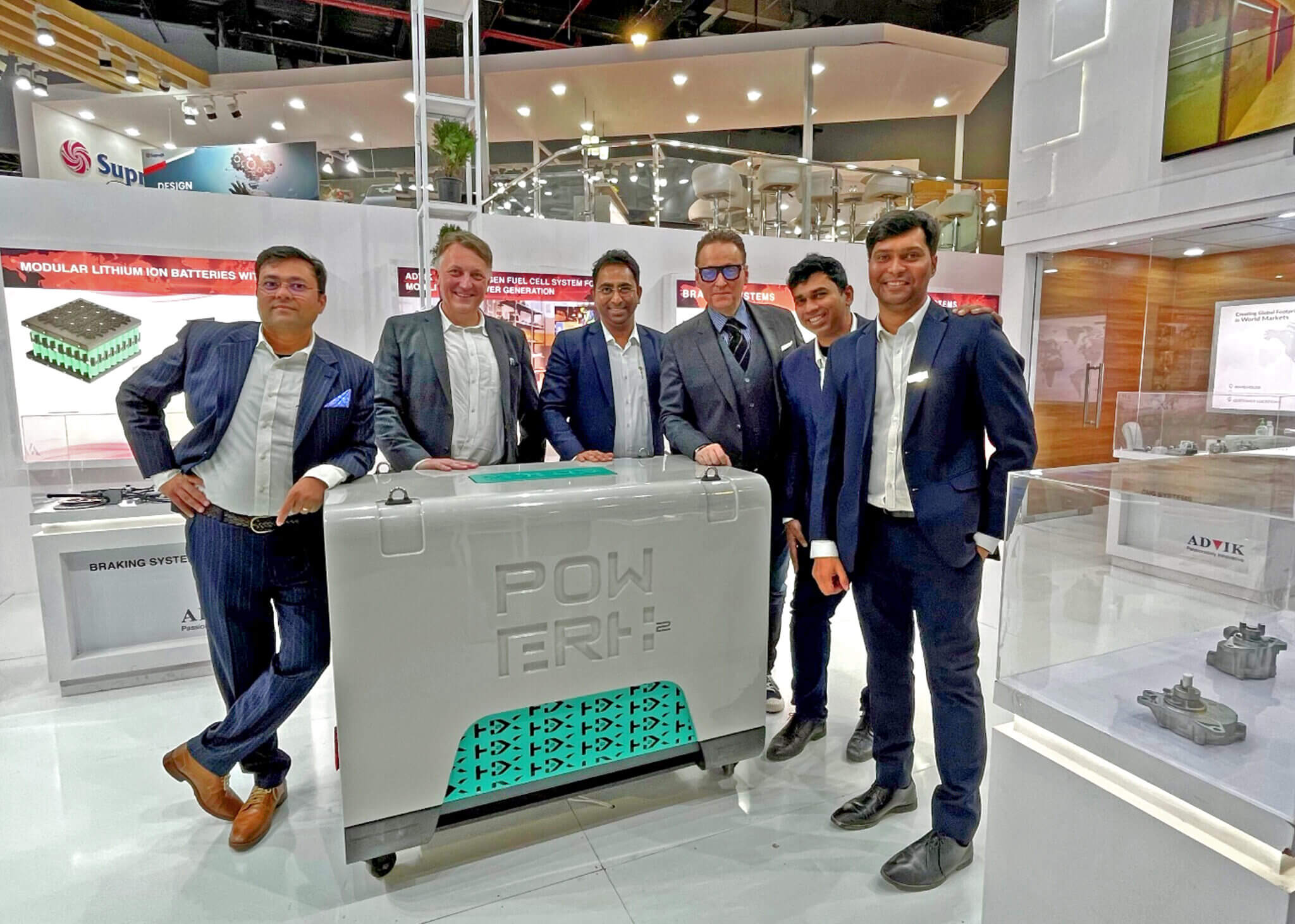 Indian Australian Joint Venture announce roadmap to build the Hydrogen Economy at the Delhi Auto Components 2023 Expo:
Advik H2X, a new company, will produce hydrogen projects in India.
The company to manufacture hydrogen fuel cell generators, trucks, buses and light commercials for worldwide distribution.
First products of the new company expected mid 2023.
The new company will also develop Methanol fuel cells, providing another clean alternative to hydrogen in certain products, making full use of the fuel cell capability of the company.
New Joint Venture will build global supply chain of products and components for hydrogen powered vehicles and powered products.
The joint operation represents a major entry into the massive Indian market.
A joint venture between Australian Hydrogen Fuel Cell vehicle manufacturer, H2X Global, and Indian manufacturing and development company Advik Hi-Tech Pvt Ltd (Advik), signals a major step forward in the production of hydrogen powered vehicles and support products for the global market.
The new company Advik H2X, based in Pune, India, will further develop vehicles and components designed and proven by the H2X Global design team. Advik H2X builds on strong experience of Advik as a master of high-tech components and the global experience of H2X with over 22 million km of vehicles travelled with their hydrogen systems to date.
The new company expands the H2X Global from the Australian base and its operations in Europe (Sweden) and Asia (Malaysia and Vietnam).
According to H2X Global founder and CEO, Brendan Norman, the first products from the joint venture company will roll off the production line seen in the second half of 2023.
"This is a major step forward in the development of the hydrogen economy in India," Mr Norman said. "Already the demand for hydrogen and non-fossil fuel-based vehicles and support products is exceeding demand. We aim to fill that gap."
H2X Global is driven by a team with over 20 years' experience in Europe and Asia in the development of Fuel Cell and Hydrogen Vehicles and Power Systems and the company is currently developing several customer delivery programs for Fixed Power Generation and vehicles in Europe, Australia, South-east Asia.
Advik is a global leader of automotive components with over $100 million in annual revenues. The company has a leading position in passenger car, commercial vehicle and two-wheeler production chain as a core supplier of high technology components to almost all major OEMs. Advik is a leader in high technology low weight application and together with H2X will take a leading position in development and production of solutions for Hydrogen Power and Hydrogen Mobility in India.
"India is destined to be a leader in the Hydrogen Industry with strong support from Government and Industry and as a company which has always been ahead of the curve, we are aggressively pushing into the Hydrogen space as a core growth area for our company and as a leader of this movement in the country," says Aditya Bhartia, Managing Director for Advik Hi Tech.  "We have great confidence in the product range from H2X as being one with several key opportunities to support to deployment of Hydrogen in the Indian Market and together with our local knowledge and expertise we see great opportunity to develop this for acceleration of the Indian Clean Energy movement."
The Advik-H2X collaboration will also undertake the application of Methanol fuel cells, providing another clean alternative to hydrogen in certain products, ensuring full capacity utilization of the fuel cell division of the company.
Brendan Norman CEO of H2X Global said "the opportunity to expand our company together with Advik who we have seen firsthand  offer top of the world quality and precision, and acts with total grace and class is an amazing chance for us to grow our business..  Through the course of the exhibition, we have met with several OEMs and have seen significant interest in the hydrogen space and the cooperation with Advik and we see several opportunities to work together"
Indian Australian Joint Venture announce roadmap to build the Hydrogen Economy at the Delhi Auto Components 2023 Expo:
H2X is an automotive and power unit company focused on absolute sustainability. The company is focused on harnessing the most efficient and effective technologies, with the onus on capturing free and renewable energy sources. A specialisation in hydrogen is the basis of H2X's growth, however with a strong platform as a maker of electrically powered vehicles, the company has a versatile approach to finding the right vehicle for the right task. www.h2xglobal.com
ADVIK Hi-Tech Private Limited is a leading & Global automotive components manufacturer. We have been catering to the needs of several domestic and overseas customers across four continents in the passenger car, commercial vehicle, stationary engine and two wheelers segment for the past two decades.
We provide products to our customers, keeping in mind their needs and specifications. Our customer base includes leading automotive original equipment manufacturers in India, Europe, UK, US and ASEAN Region.
Source: H2X Global