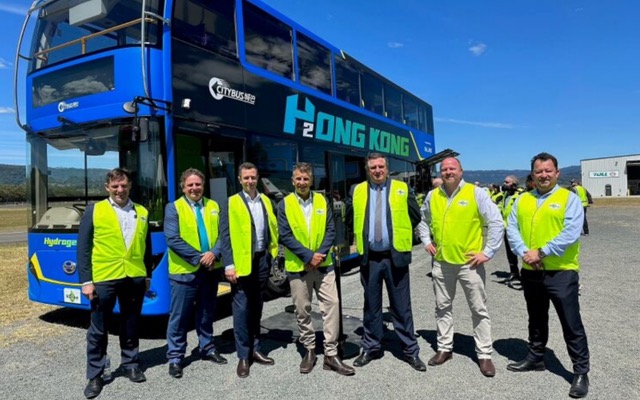 Clean energy focused company Pure Hydrogen (ASX: PH2) has revealed a substantial increase in revenue and net profit (NPAT) for the half year ending December (H1 FY2023) – leaving it in a strong cash position of about $14.7 million to pursue its growth plans.
During H1 FY2023, revenue grew substantially to $6.13 million – up from $206,000 in the previous corresponding period.
This boosted NPAT to almost $4.3 million, which was substantially higher than the $808,000 loss posted in H1 FY2022.
Earnings per share for H1 FY2023 rose from a loss of 0.25 cents per share in H1 FY2022 to 1.23cps.
Also building Pure Hydrogen's bottom line was about $6 million in research and development tax incentives.
Pure Hydrogen's strategy is to develop a hydrogen ecosystem to capitalise on rapidly growing demand and become the "hydrogen supplier of choice" to Australia's market.
The company says there is "significant potential for emissions reductions" using its green, turquoise and emerald hydrogen manufacturing methods.
Under a trial due to begin next quarter with major global brand Pepsico, Pure Hydrogen will build and deliver its first hydrogen powered truck.
The truck will be on display at the Brisbane Truck Show, with Pure Hydrogen anticipating an initial order of 10 or more.
In November last year, Pure Hydrogen launched its first hydrogen fuel cell city bus at an event in New South Wales.
Via its partnership with HDrive, Pure Hydrogen is positioning itself as a leading distributor of hydrogen-fuelled buses, trucks, prime moves, and waste collection vehicles.
The companies are now taking orders for delivery.
During H1 FY2023, Pure Hydrogen also advanced its Hydrogen Hub strategy by scooping up 21 hectares of land in Queensland's southeast for its planned Moreton Bay hydrogen hub.
The site is at Bracalba and about 10km northwest of Brisbane's CBD.
Pure Hydrogen plans to develop commercial waste-to-hydrogen manufacturing and distribution facilities at the site in joint venture with CAC-H2.
It is expected the hub will serve customers from the Sunshine Coast to the Gold Coast.
Fuelling the marine sector
Another key market Pure Hydrogen is shouldering into is providing the marine sector with hydrogen.
During H1 FY2023, the company inked a term sheet with marine vessel builder and design company Aus Ships Group to establish a joint venture to develop hydrogen as an alternative fuel source to the marine industry.
Under the partnership, the companies will bring hydrogen fuel cell generators and electric vehicle charging to generate green fuel sources, which would power battery-operated electric marine vessels.
"The two companies are hoping to revolutionise the marine mobility market in Australia and New Zealand by providing green hydrogen fuel and hydrogen fuel cell generators to help reduce emissions and cost," Pure Hydrogen explained.
As part of its hydrogen ecosystem strategy, Pure Hydrogen has also secured a 10-year master supply agreement with BLK Auto.
The deal paves the way for Pure Hydrogen to sell and distribute hydrogen-fuelled trucks, buses and storage pods throughout the Asia Pacific, India and Africa.
Over the 10-year term, Pure Hydrogen will have an initial one-year exclusivity period, which will begin from the delivery of the first hydrogen fuel cell prime mover.
"Pure Hydrogen is establishing itself as not only a leading supplier of hydrogen fuelled trucks, buses, generators, and storage pods to customers, but also as a supplier of hydrogen fuel which sets it apart from its competitors," the company stated.
Also, during H1 FY2023, Pure Hydrogen's 23.9%-owned investee H2X Global received $2 million from Renova AB.
This marked H2X's first phase in delivering hydrogen-powered commercial trucks to the city of Gothenburg in Sweden.
H2X also raised $3 million to accelerate its manufacturing and to evaluate a public listing.
While Pure Hydrogen's hydrogen strategy gains momentum, the company is also progressing its three gas assets: Windorah (Cooper Basin, Queensland), Project Venus (Surat Basin, Queensland), and Serowe (Botswana).
A key achievement during the H1 FY2023 was the company's 19.9% investee Botala Energy (ASX: BTE) completing its $5 million IPO and listing on the ASX in July.
Botala owns 70% of Serowe, which effectively gives Pure Hydrogen a 30% free carried stake.
Serowe is coal bed methane project, and Botala recently reached the target 510m depth of the Serowe-7 well.
Meanwhile, flow testing of the Serowe-3 well is ongoing with rates continuing to "increase steadily".
Pure Hydrogen also wholly owns Project Venus, which is a coal seam gas asset. The project has prospective resources of 560 petajoules (Base Estimate Case) and 675PJ (High Estimate Case).
The company is planning to drill further wells at the project.
Contingent 2C resources across Project Venus and Windorah total 453PJ.